NEWYou can now listen to Fox News articles!
Paul Sorvino died on Monday from natural causes, and Hollywood stars mourned the loss of the acting legend with tributes shared online. He was 83.
"My father the great Paul Sorvino has passed," his daughter Mira Sorvino tweeted. "My heart is rent asunder- a life of love and joy and wisdom with him is over. 
"He was the most wonderful father. I love him so much. I'm sending you love in the stars Dad as you ascend."
Sorvino's publicist, Roger Neal, told the Associated Press he died at the Mayo Clinic in Jacksonville, Florida. Sorvino had battled health issues for years.
PAUL SORVINO, 'GOODFELLAS' ACTOR, DEAD AT 83
Sorvino's wife, Dee Dee, shared a host of photos of the "Goodfellas" actor through the years while confirming his death online.
"I am completely devastated," she wrote. "The love of my life & the most wonderful man who has ever lived is gone. I am heartbroken."
Dee Dee, a political strategist, and Paul first met in the green room at Fox News' "Cavuto" and returned to the show in 2015 to announce they were married, and had eloped while standing in front of the Lincoln Center fountain.
Lorraine Bracco, who worked with Sorvino through the years and also in his last film to date, the crime thriller "The Birthday Cake," wrote on Twitter, "So sad to hear of the passing of Paul Sorvino—my sincere condolences to his family & loved ones. May he Rest In Peace."
CLICK HERE TO SIGN UP FOR THE ENTERTAINMENT NEWSLETTER
Marlee Matlin worked with Sorvino, James Denton and Jamie Kennedy in the 2013 film "4Closed." She wrote, "I feel so fortunate that I had a chance to work with the great Paul Sorvino. And now I am so sad to read of his passing. Not only was he kind, he was so talented and so giving as an actor. I am sending my love to Mira and the rest of the family. He will definitely be missed. RIP."
"Seinfeld" star Jason Alexander tweeted, "The amazing Paul Sorvino has passed. From Baker's Wife on Bway to Shakespeare in the Park to all the incredible film/tv roles – he was magnificent in all. Blessings to his friends and family."
Ralph Macchio tweeted, "The great Paul Sorvino. So many memorable roles in in so many genres. #RIP to a one of the truest and honest actors I had had the pleasure of working with and getting to know."
Sorvino was known just as much for his gangster roles in "Dick Tracy" and "The Rocketeer" as he was for playing a crime-fighting cop on television in "Law & Order."  
He famously taught audiences the correct way to slice garlic with a razor blade in "Goodfellas" and played Claire Danes' father, Fulgencio Capulet, in the cult classic Leonardo DiCaprio film directed by Baz Luhrmann, "William Shakespeare's Romeo + Juliet."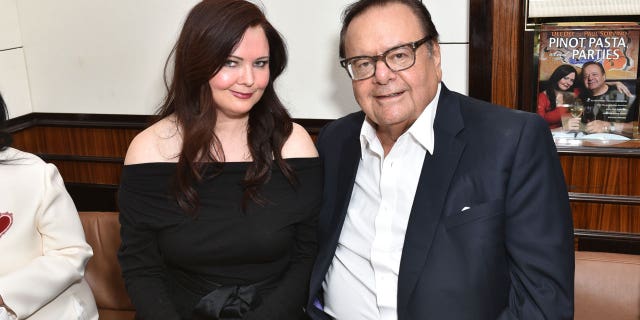 Sorvino was also a father to three children from his first marriage, including Mira, 54, an Academy Award winner. He also directed and starred in a film written by his daughter, Amanda Sorvino, which featured his son, Michael Sorvino.
He was proud of Mira as she rose to Hollywood stardom and cried when she won the best supporting actress Oscar for "Mighty Aphrodite" in 1996. He told the Los Angeles Times that night that he didn't have the words to express how he felt seeing her win the most coveted award for actors.
"They don't exist in any language that I've ever heard — well, maybe Italian," he said.
CLICK HERE TO GET THE FOX NEWS APP
 
Leave a comment